A group of 10 Blue Jay footballers are given reasons to smile for at least an hour every Tuesday and Thursday night.
"I got into training because I love being in the game," said Connor Trout. "I wanted to influence the development of these young children with the hope of making them the best possible players. I also love seeing their smiles and their general love of the game.
"The only thing I love about training these little kids is how pure they are – they never fail to make you smile or laugh."
Trout, along with three other Blue Jay footballers, Dylan Altringer, Brady Harty and Cheshton Bollinger, have been given the task of coaching the Jamestown FC U8 youth football team.
Peyton Walliser, Hannah Murchie, Claire Frolich, Liv Frolich, Rhys Crist and Olivia Sorley – all members of the Blue Jay Girls football team – coach the U6 footballers.
"A lot of what we train for them is ball control and how to play with their teammates," Frolich said. "This experience has taught me how to be patient, and I have to remind myself that they are a little bit short and very passionate.
"The kids enjoy working with them, I like to see how excited they are to be there and not afraid to be an idiot around us which definitely makes it fun. I would like to continue training when I come back for the summer."
The concept of high school students being responsible for teaching the basics of the game is a relatively new one. Most current high school students only remember being coached by college students, parents or football coaches at Jamestown University.
"When Brady (Harty) was young, we were in Bismarck at the time and there were undergraduates from the University of Mary who coached him," said JHS head coach Brandy Harty. "When I was in Jamestown for college he helped the youth programs a little bit, but I don't think the high school kids helped as much as they do now. It varies from club to club."
Harty said the Jamestown youth football club has changed over the past two years as the club no longer has the same coaching director – a change that has brought more opportunities for Blue Jay footballers to get involved.
Harty said that if players have the desire to continue training, they can continue to do so and get their E license, which will allow them to train at a higher level as they gain experience.
As for training at youth level, Harty said there are no hard and fast qualifications other than that training kids have played and understood the basics of the game.
"The goal is to catch them when they're younger and they find it interesting and that's something they're after in the future," Harty said. "They really enjoy working with these kids and seeing how successful they are at the end of the session.
"The boys have a few comebacks from session one who are now doing session two and it's kind of cool to see them interact with these boys and girls again because they know them."
This year, there were two sessions – the first from April 12 to May 26, then after a 10-day break, the second session began. The summer session will conclude on July 21.
"Brandy asked me to help her out last year with the U8s because my sister was in that group," Sorley said. "I volunteered this year after hearing I could help train again.
"I would like to continue coaching the U6 and U8s teams for the rest of my high school years. The coaching taught me to be very patient with the young players. It also taught me to find alternative ways to do the exercises and to have the players listen and interact."
Each age group – U6s and U8s – is usually divided into two smaller groups to try to make it easier for teens to fit in the energy and excitement.
"I try to have two coaches in every field," Harty said. "There are still a lot of kids playing, so it's always good to have two coaches together because if a kid is having a hard time or needs help lacing the shoe, the coach can focus on helping that kid and the other one can keep training."
So what does training primary school children actually look like? Is it chaos control or actually teaching skills?
According to Sorley – it's a bit of both.
"Although controlling the chaos is some of the responsibilities we have as coaches, training them in actual skills to help improve their performance is our most important job," said Sorley.
To warm up, Sorley said the kids dribble and focus on the movements of their feet. Sometimes there will be relays that focus on dribbling through cones, controlling the ball, and getting small touches on the ball. Near the end of the practice, there is usually a 4v4 brawl working on the kids' passes, positioning and opening up to their teammates.
"I've always wanted to train once I'm of legal age," Brady said. "The thing we focus on the most is playing as a team because we are preparing them to play at an older age.
"I love how much energy the kids have and how they want to learn to play football. It's great training the kids – it helped me with my presentation skills."
Practices are Tuesdays and Thursdays from 5:30 to 6:30 p.m. at the Jaycee Football Complex.
Harty sends a practice sheet to the youth coaches so they know what to cover around the clock. It's up to high school students how they want to deal with the ins and outs of the practice, Harty said.
"I think this experience taught me how to explain things in simpler terms so I understood," Trout said. "I also think it taught me a lot of patience. It can get a little messy at times but that's to be expected with these young kids. It's just about balance."
The U6 age group does not play any outside competition, but youth teams do play some friendlies like the Jamestown Jamboree which was held in the pool on June 11.
While most young footballers are involved in practices and scrimmages, Harty said that if the U8 team has enough parental support, they will travel to Mandan to play in the 2022 Splashdown Championship on July 22-24.
"I see a great future for Blue Jay football teams," said Sorley. "A lot of kids want to play, and if they stick with it, the football program will not be in short supply. The kids seem to enjoy it and work really hard during the hour I see them."
Harty added:
"In bigger communities you'll see more college players training and we have college players helping you but in the summer a lot of them move away. That's why our high school has taken these kids a little bit and it's a really good thing."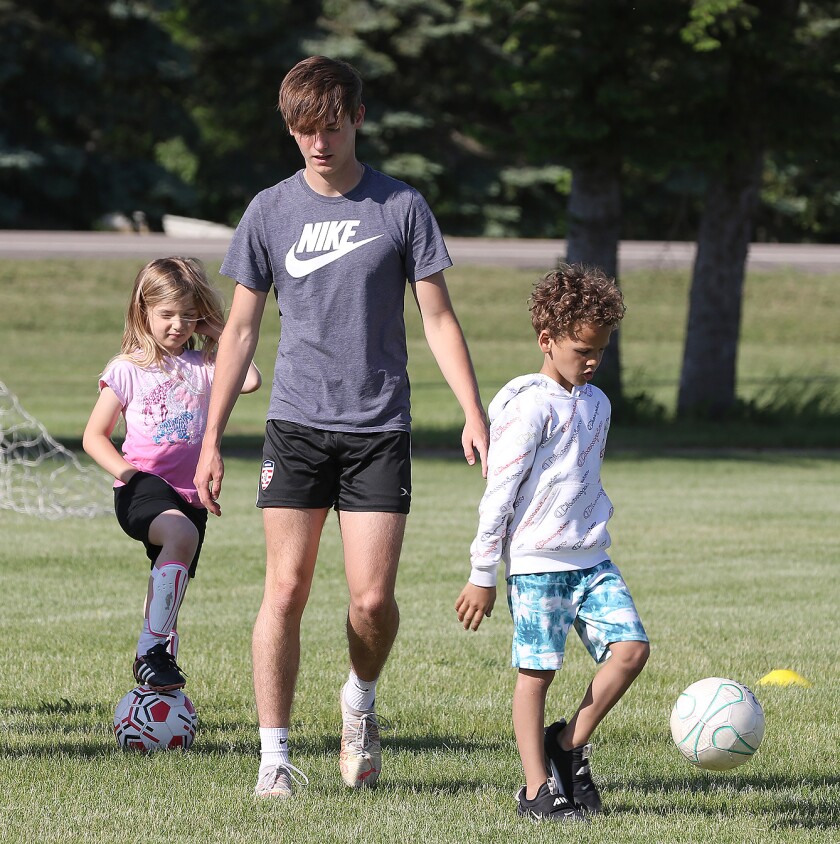 window.fbAsyncInit = function() { FB.init({
appId : '654463039042018',
xfbml : true, version : 'v2.9' }); };
(function(d, s, id){ var js, fjs = d.getElementsByTagName(s)[0]; if (d.getElementById(id)) {return;} js = d.createElement(s); js.id = id; js.src = "https://connect.facebook.net/en_US/sdk.js"; fjs.parentNode.insertBefore(js, fjs); }(document, 'script', 'facebook-jssdk'));