National statistics show that between 17-21% of college students in the United States identify as LGBTQ+. At Utah Valley University, that means about 7,000 students are part of that demographic. But despite these numbers, being LGBTQ+ can be an isolated, lonely experience.
Dr. Shelag Fox (she/them), a licensed psychologist and new LGBTQ+ mental health professional in UVU's Office of Student Health Services, says that's one of the main reasons she's here.
"In Utah County, finding a community is not easy," she says. "People sometimes end up like they're the only person they know, although that's probably not true, statistically speaking. Given this context, I definitely want people who feel alone to come for therapy and talk."
Dr. Fox has a Ph.D. in clinical psychology and has been identified as gay. Although they are not the only LGBTQ+ member of UVU's Student Health Services team, they have been hired specifically to focus on serving students from this community. They offer individual and group therapy sessions, including LGBTQ+ group therapy with UVU therapist Dr. Ben Bailey, as well as a group focused on religious conversions with UVU therapist Dr. Nick Taub.
The site of Dr. Fox is new to UVU, but they say they are grateful to have it now, especially since personal and historical experiences may have taught LGBTQ+ students to be wary of therapists and health care professionals in general.
"One of the things I want to do is use my position to identify ways we can work to become a safer place for LGBT people and other marginalized people," says Dr. Fox. "A lot of LGBT people don't feel safe going to the doctor or going to a therapist or going anywhere. And there is a whole history of marginalization, medication and theorizing that has led to stigmatization of LGBT people in the wider community. I think it's important that that be owned so that we can than moving forward with creating an inclusive space."
Dr. Fox says that most often the problems her clients experience relate to or affect their relationships with other people. She says the most important protective factor against depression is having close personal relationships. However, for people from the LGBTQ+ community, these relationships can become more dangerous because they don't feel safe to be themselves.
"I feel like therapists have a very strong set of skills, knowledge, and experience to help people figure out, 'OK, what's wrong with your ability to communicate with others?'" Dr. Fox says. Or what is your marginalization that separates you from the people in your life, and how can we find you relationships where that doesn't happen?
In addition to her clinical work, Dr. Fox says she feels an essential part of her role is to be an activist and advocate, because LGBT people face systemic issues that cannot be resolved in individual or group therapy sessions.
"I believe that therapy can be used by institutions, including universities, as a rug under which the distress created by anti-LGBT cultures and policies can be used," says Dr. Fox. "They can feel comfortable and say, 'Oh, therapists will handle it, and we don't need to change. "So it's important for me to be involved in an activity that helps improve the situation, so people don't eventually come for treatment because of the terrible things that happen to them in these systems."
And while it can be difficult for people who aren't LGBTQ+ to understand marginalized experiences, Dr. Fox says the key to communication is humility: listening, believing, and accepting responsibility when necessary.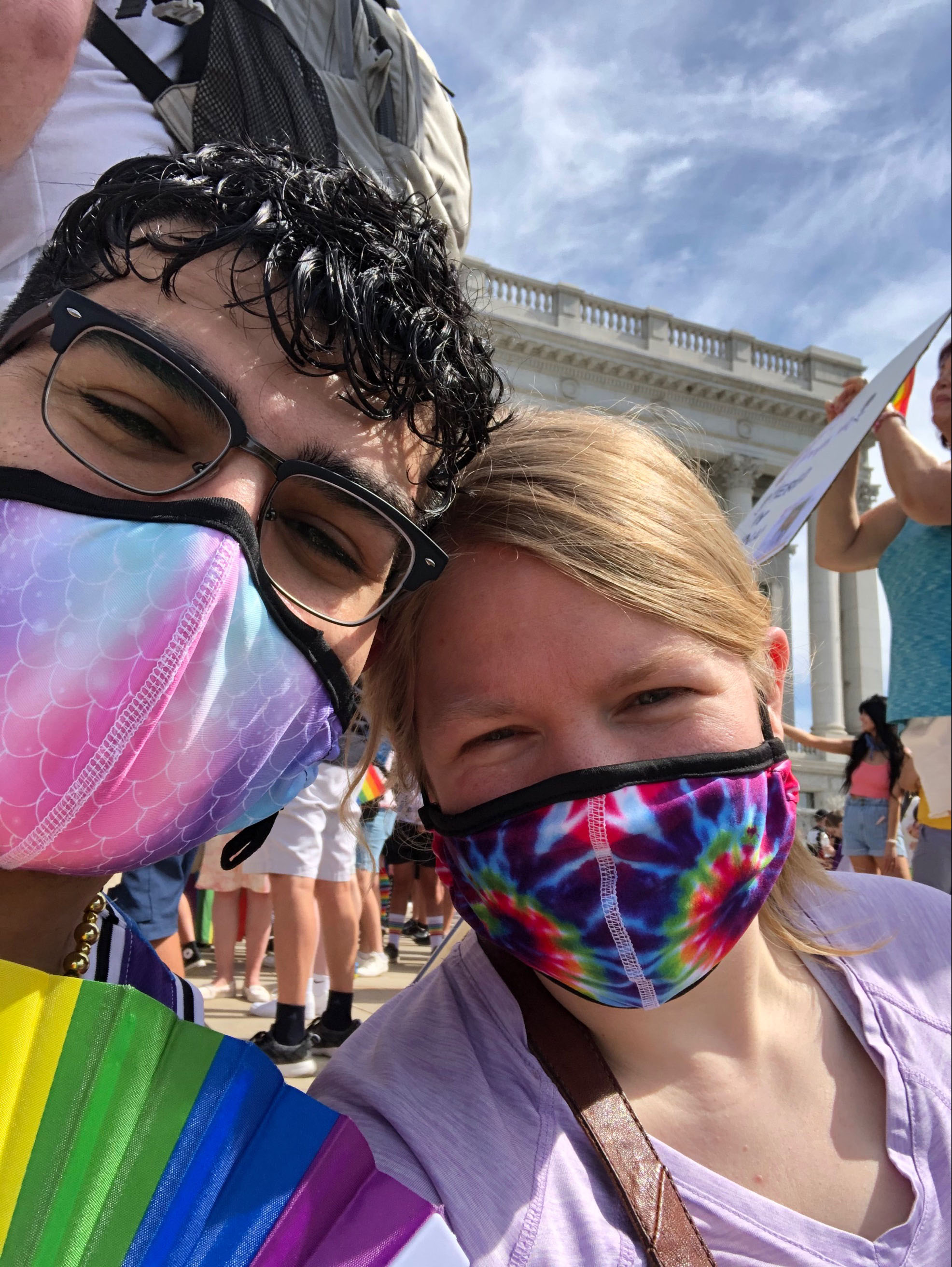 Dr. Shelag Fox (her/them), right, poses with her close friend and colleague Dr. Michael Azarani (they/them) at a pride event in Salt Lake City, Utah on June 6, 2021.
"Accountability is really scary for a lot of people with dominant identities," they say. "There is a lot of fear of what it means to look at privilege, to look at the harm we might have done to others. It is disturbing. What people don't realize is that accountability in the context of social justice is not a punishment – it is a call to reform the relationship. It is difficult to counteract the impact we have on the Another person and change, but what lies at the other end of the accountability is community, it's friendship, it's love. And people are so afraid because they don't know it."
For direct allies seeking to learn more about the experience of people from the LGBTQ+ community, Dr. Fox is quick to point out that there is no one universal summary – there is an enormous amount of diversity across dimensions of sexual orientation, romantic orientation, gender and other ways of being in the world. But what people will find, she says, is that LGBTQ+ experiences are human experiences.
"There is so much we can relate to and relate to," she says. "Just be curious. Get to know gay people. Go to a weird library and pick something off the shelf. Don't be afraid to deal with people who are different from you."